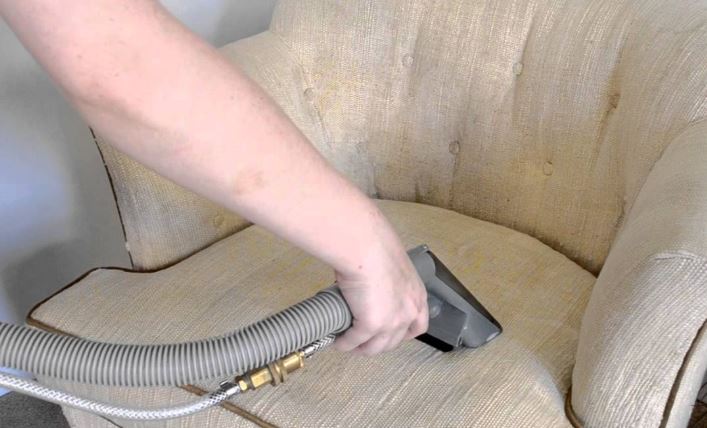 Steam upholstery cleaning is a popular technique used in both domestic and commercial environment. It is an effective and durable method of cleaning the upholstery while at the same time removing the odor. Like professional carpet cleaning, industry grade equipment may be required in order to properly apply the steam on all parts of the upholstery.
Similarly, some detergent may be required in order to remove the stains and odor from the subject needs to be cleaned. It is preferred for dust particle removing from the upholstery since hot water extraction is more suitable for removing the stains; however, it is a quick process.
What are the Equipment and Supplies required in Steam Upholstery Cleaning?
The steam upholstery cleaning process is standard and can be performed by anyone having an operational understanding of the equipment stated as below:
Industrial Grade Equipment: An industrial grade equipment specifically for this purpose may be used in order to properly apply the steam to upholstery. It will have a chamber where water can be added along with a detergent. Water will be converted to steam for the cleaning process. Vacuum Cleaner: This will be used before and after the steam upholstery cleaning process. It is useful in removing the large particles while deep cleaning is performed in the steam cleaning.
Detergent or Vinegar: Some detergent or soap may be used in order to remove the stains and odor from the upholstery.
The procedure of Upholstery Cleaning using Steam
Following steps in stated order should be applied for the cleaning of upholstery through steam:
Take out the upholstery in a separate room where the process can be performed uninterruptedly. A place should be used where no official business or work is carried out so that ample time is allowed for steam cleaning.
Now, vacuum clean the upholstery for removing large particles.
Now, add the water to the chamber of the industrial grade steam cleaner machine and let it convert to steam. Add some detergent or vinegar as well in order to properly clean the stains.
When the water has converted to steam, start to move the machine over the upholstery. Start from one end and slowly move it in stripes.
The process should be slow and gradual so that the steam is properly applied.
Let the upholstery dry for 6 to 8 hours so that the cleaning is substantial and effective. Sometimes 10 – 12 hours may be required in steam upholstery cleaning depending upon the material.